Last week Prodevelop participated in the kick-off meeting of the iTerminals project, which started a few months ago. The meeting took place in the facilities of the Valenciaport Foundation, coordinator of the project, and it brought together representatives of the most important terminal operator groups in Europe, with ports as important as Antwerp, Hamburg, Bremerhaven, Wilhelmshaven, Rouen, Malta, Sines and Genoa. Large manufacturers of heavy machinery (Konecranes, Kalmar, ZPMC, Hyster) and software suppliers (Prodevelop, TBA, RBS, Cargotec) also participate in the project.

iTerminals 4 0 will design, engineer, test and evaluate Industry 4 0 solutions which will enable the digital transformation towards the 'Container Terminal 4 0 This concept envisages a hyper-connected facility involving not only smart equipment and systems but also safety and cyber security management by using integrated big data analytics, artificial and predictive intelligence to reduce risk, increase sustainability and reduce energy consumption The 'Container Terminal 4 0 will perform cargo handling operations being data-driven, integrated and optimised to increase productivity, thus multiplying its automation capabilities.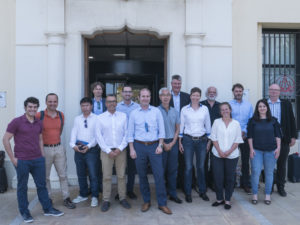 The project seeks to carry out a digital transformation of the container port industry, for which it has the following objectives:
Develop and deploy in the market a set of interoperable information exchange standards able to allow real time communication among the port equipment operating in a container terminal and with the existing and new systems
Design, prototype and deploy a set of Industry 4 0 technologies able to transform the operative model of container terminals into 'Container Terminals 4 0 by performing big data modelling, artificial intelligence algorithms and predictive analysis
Develop pilots in real operational sites at Core Network Ports

Port Operations and Performance
Operational Safety
Fuel Consumption and Carbon Footprint
Equipment Maintenance

Ensure that the project provides the means so that its results can be used by other ports/port operators across Europe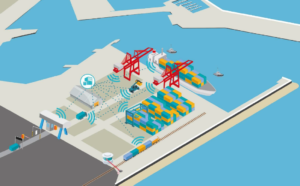 Prodevelop participates in the project as leader of the set of activities of pilots, a responsibility conferred on it by the consortium thanks to the company's extensive experience in technological integration and its broad curriculum of research activity. In addition to leading the execution of the pilots, Prodevelop will participate in the development of interoperability technologies between the different operators and information models, as well as in the deployment of its product for the monitoring and analysis of operations in terminals, Posidonia Terminal 4.0.