Prodevelop is deploying Posidonia Terminal 4.0 at Malta Freeport Terminals which is being customised in line with the Terminals' specifications. Malta Freeport Terminals entrusted Prodevelop, having 25 years' experience in specialised solutions in the management and optimisation of terminal operations to implement this top notch IoT Platform to support the Container Terminals in streaming the operations by identifying potential bottlenecks. This platform enables the collection of data from terminal equipment, information system databases, and the Terminal Operating System (TOS) and integrates them into a single knowledge database. Presently, such data collection at the Freeport is in test mode and Prodevelop is looking forward to sharing this successful case study in the near future when the platform will be fully installed at Malta Freeport and integrated with its TOS.
Malta Freeport´s Posidonia Terminal 4.0 will be fully integrated with its TOS and deployed with a new Container Handling Equipment (CHE) customisable dashboard to support the Containers Terminals in streamlining the operations.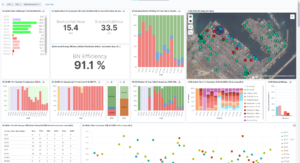 Strategically located at the centre of the Mediterranean, Malta Freeport represents a strategic platform for the shipping lines that choose it as their Mediterranean hub port. Malta Freeport's location at the crossroads of some of the world's greatest shipping routes make it the ideal shipping lines' strategic partner. Over 96 per cent of Malta Freeport's container traffic is transhipment business. Malta Freeport is one of the busiest container terminals in Europe, handling a trade volume of nearly 3 million TEU annually. Such traffic volumes require state-of-the-art equipment, space and a well-managed work force to be able to offer unrivalled operational performance and greater economic benefits to the customers.
Continuous investment in the most advanced Container Handling Equipment (CHE) plays a vital supportive role in the development of the Freeport and the Terminals are presently equipped with 20 latest generation Quayside Cranes and 65 Rubber-Tyred Gantry Cranes serving both Container Terminals. Prodevelop, through its Posidonia Terminal 4.0, a hybrid solution with server-based applications and IoT Gateways attached to the CHEs, provides real-time data of all the CHEs including tractors and vessels. Posidonia Terminal 4.0 will place Malta Freeport in an enhanced position to take the necessary operational measures and investments to boost the Terminal's performance levels through smart decision making based on historic and real-time data from equipment and TOS. These are supported by sensors and algorithms that show, on customised dashboard, accurate information to be able to analyse, evaluate, simulate and identify the performance of the whole ecosystem of the Terminal.
If you want to know more about this software for your port or terminal, keep reading here.