The Physical Internet Initiative aims at transforming the way physical objects are moved, stored, realized, supplied, and used, pursuing global logistics efficiency and sustainability.
The International Physical Internet Conference (i.e., IPIC) aims to provide an open forum for researchers, industry representatives, government officials and citizens to together explore, discuss, introduce leading edge concepts, methodologies, recent projects, technological advancements, start-up initiatives, for current and future Physical Internet implementation.
Conference topics include Logistics Nodes, Logistics Networks, System of Logistic Networks, Access and Adoption, Governance. New business models, enabling technologies and experimentations already underway will be presented, making this meeting a unique opportunity to learn, network and discuss the latest results and challenges about interconnected logistics.
IPIC 2023 will be taking place on 13-15 June 2023 in Athens, Greece. This year's conference will be open to all Physical Internet topics focusing on a suitable approach to overcome the latest global breakthroughs contributing to the expansion of the logistics scope. The Call for contributions welcomes submissions related to the Physical Internet principles and developments (i.e., Support freight transport and logistics decarbonization, Provide further resilience to global and regional supply chains, Support the development of the circular economy and Address urban logistics challenges, e-commerce and retail distribution).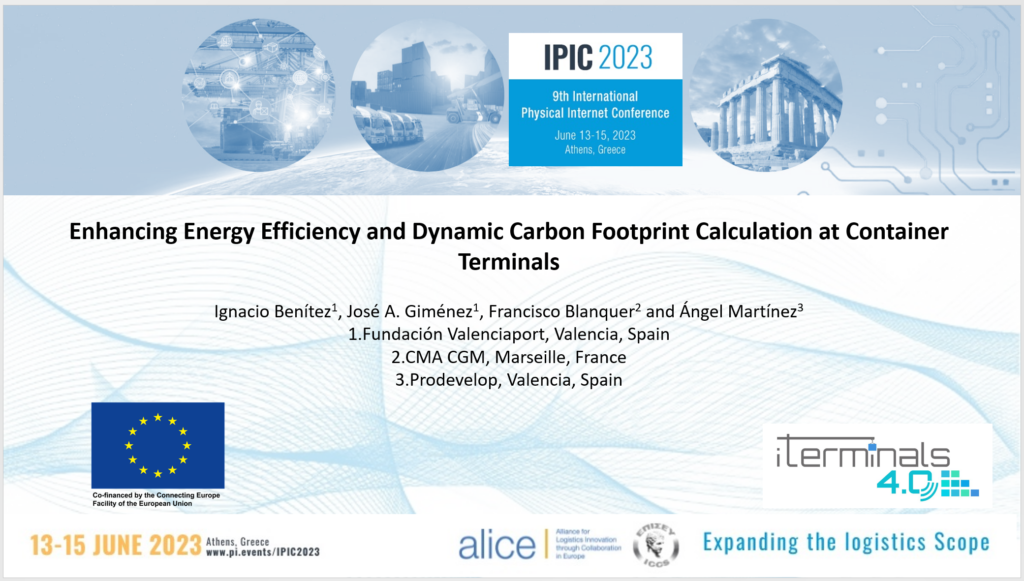 Prodevelop, in collaboration with Fundación Valenciaport and CMA CGM, will take part of this Conference presenting the scientific paper Enhancing Energy Efficiency and Dynamic Carbon Footprint Calculation at Container Terminals, developed under the umbrella of the iTerminals Project and will contribute to the Optimization of Physical Internet networks, Nodes and Synchromodal Services topic (i.e., Session 4, Stream B, Logistics hubs, corridors and networks). The purpose of the paper is to describe and estimate, the Carbon footprint and Energy Efficiency per each container at the yard.